Loan Features:
• Monthly flat rate as low as 0.2%▽ (Annual Percentage Rate: 4.49%)

+


• Loan amount up to HK$1,000,000 or 12 times your monthly salary, whichever is lower
• Flexible repayment period from 6 months up to 60 months
• No handling fee
• Save Interest Up to 96%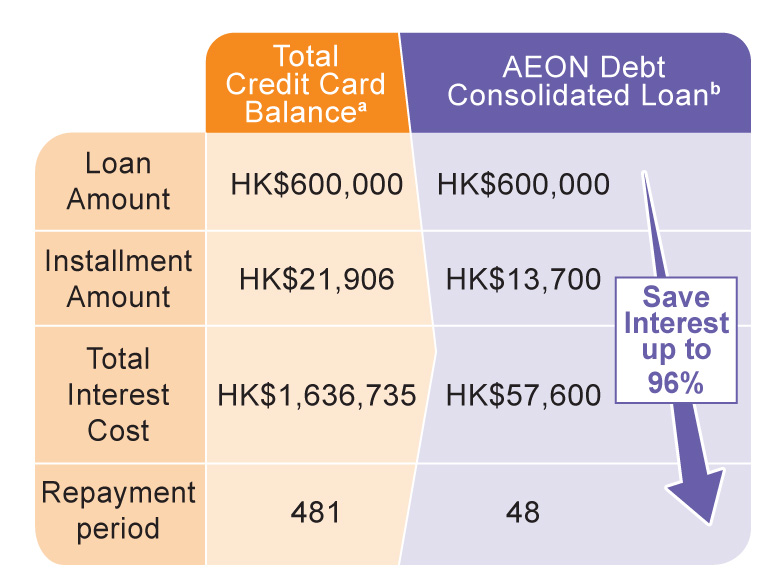 Application Methods:
• Apply on AEON Website
• AEON Cheering Assistant: 2239 9000
• AEON Branches
• Whatsapp (Live Answer)

Documents required:
• Hong Kong Identity Card
• Address proof
• Bank account information
• Income proof document

#
Remarks:

# Providing additional income proof documents (that accepts latest 3-month bank statement / passbook, tax demand note, and payroll advice) could help to obtain a more ideal loan amount.

▽ Only applicable to the loan amount of HK$600,000 or above.

+ With loan amount of HK$600,000 and 12 months loan repayment tenor for calculation. The lowest annualized percentage rate ("APR") 4.49% is calculated by loan amount of HK$600,000, monthly flat rate of 0.2% with repayment period of 12 months. The illustration assumes a loan amount of HK$600,000, monthly flat rate of 0.2% with repayment period of 12 months. The total interest payable is HK$14,400, and the total loan repayment amount is HK$614,400. The above example is for reference only.

a In the above example, repayment of credit balance is based on minimum payment amount only, and it is assumed that all the total outstanding balance is credit card balance of HK$600,000, with a general credit card monthly interest rate of 2.66%; in each month only 1% of the credit card balance or HK$200 (whichever is higher) is repaid. The monthly repayment amount is the average repayment amount for the first 6 months. During the period there is no new transactions, annual fees and other fees.

b The above AEON Debt Consolidation Loan service is calculated based on the loan amount of HK$600,000, repayment period of 48 months and the monthly flat rate of 0.2%. The actual annual interest rate is 4.66%, and the total interest expense has been rounded to an integer. The final repayment period and monthly repayment amount will vary slightly subject to various factors, such as the minimum monthly repayment amount and interest rate factors of the customer's existing credit card. The above examples are for reference only, please contact AEON for more details.
AEON Debt Consolidated Loan "DCL" Plan Terms and Conditions:
The Company will not accept any application for the DCL for the purpose of settling outstanding amounts in connection with AEON Credit Cards or for the purpose of refinancing any loans provided by the Company.
After deducting interest/ other amounts payable to the Company (if applicable) from the approved loan amount, the Company, on behalf of the customer, shall use the loan amount approved by the Company (in whole or in part) to settle the whole or part of the outstanding balance(s) under the customer's designated credit card(s) and personal loan(s) with other financial institutions ("Designated Non-AEON Debts"). Any residual loan amount (if any) will be deposited in the designated sole name bank account of the customer.
All decisions of the Company relating to the DCL (including without limitation its approval and the Designated Non-AEON Debts to be settled, whether partially or in full, if at all) shall be absolute and final. In case the customer is required to settle any Designated Non-AEON Debts himself/ herself, the customer must provide all relevant and acceptable settlement records upon the Company's request.
All accounts to be debited/ credited, whether for loan disbursement or settlement of Designated Non-AEON Debts or otherwise, must each be a sole name account of the customer. Joint name account or corporate account will not be accepted.
The customer shall bear any fees and charges incurred in connection with or occasioned by any termination of credit card/ loan falling under Designated Non-AEON Debts and shall produce proof of such termination to the Company's satisfaction upon request.
Unless otherwise expressly agreed by the Company in writing, the customer must not re-activate or re-apply for any of the accounts terminated in connection with the DCL or apply for or drawdown any new unsecured credit facilities, or apply for or accept any increase in credit limit on any existing unsecured facilities within 12 months on or after the drawdown date of the DCL.
Should there be any amount/accounts outstanding is not settled/terminated as contemplated under the DCL or otherwise instructed by the Company, the Company may early terminate the DCL and demand immediate full repayment of the DCL.
Regardless of whoever is to make payment to such other banks/financial institutions with respect to any Designated Non-AEON Debts under the DCL, the Company shall not be liable for any overdue payment, interest or any other expenses or liabilities thereof due from/ payable by the customers howsoever under any circumstances.
If there is discrepancy between the Chinese and English versions, the English version shall prevail.
Money Lenders Licence No.: 1767/2022
Warning: You have to repay your loans. Don't pay any intermediaries.
For any complaint, please call: 2895 6262
Useful Information